Bitbond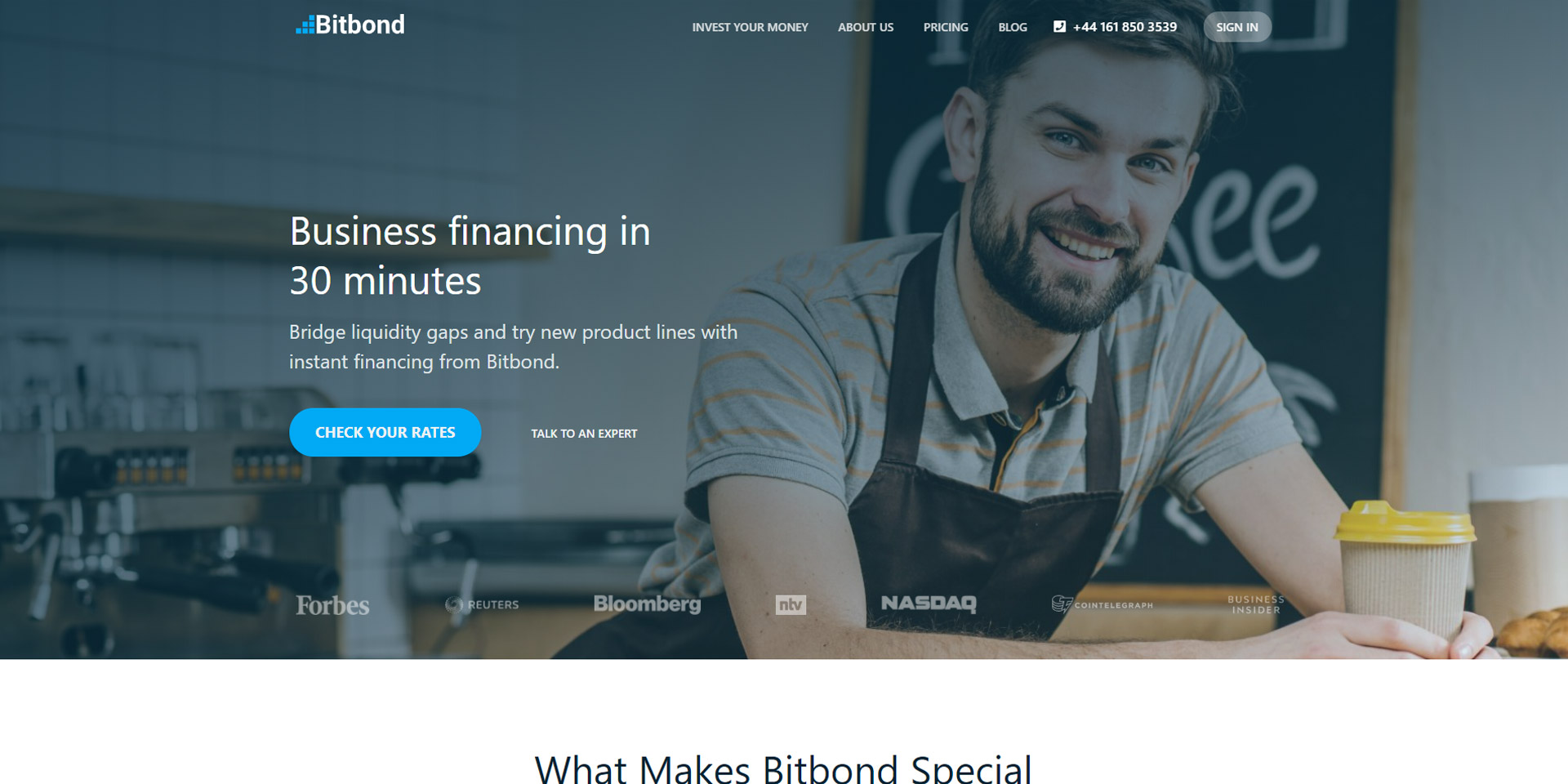 Bitbond is one of the best cryptocurrency exchanges for both investors and those seeking investment. The great thing about Bitbond is that you can join free and get started with a minimum investment of $2.
This is a unique site, as it is the first site across the world to offer small business loans without the need to go through a financial institution. It is the epitome of the vision of a decentralised economy. It is a site where you can get a loan from an investor within days and pay this back over a period of between 6 weeks and 5 years. This is a site where the most innovative thinkers turn up with their ideas and ask visionaries to fund their proposal.
BitMEX
BitMEX earns its position amongst the best cryptocurrency exchanges because of the ease of verification and the limitless trading offered. You merely need to verify an email address to get started and from this point you are free to participate in buying and selling on the site.
BitMEX is also one of the few good cryptocurrency exchanges that accepts fiat currencies – including USD, JPY and CNY. It also offers a great range of digital coins for trading. The platform supports Bitcoin, Ethereum, Ethereum Classic, Litecoin, Zcash, Ripple, Monero, Auger and Factorm.
You would likely choose BitMex if you have already been initiated into the world of cryptocurrency. The interface is a little more complex than most – with lots of options and information.
Paxful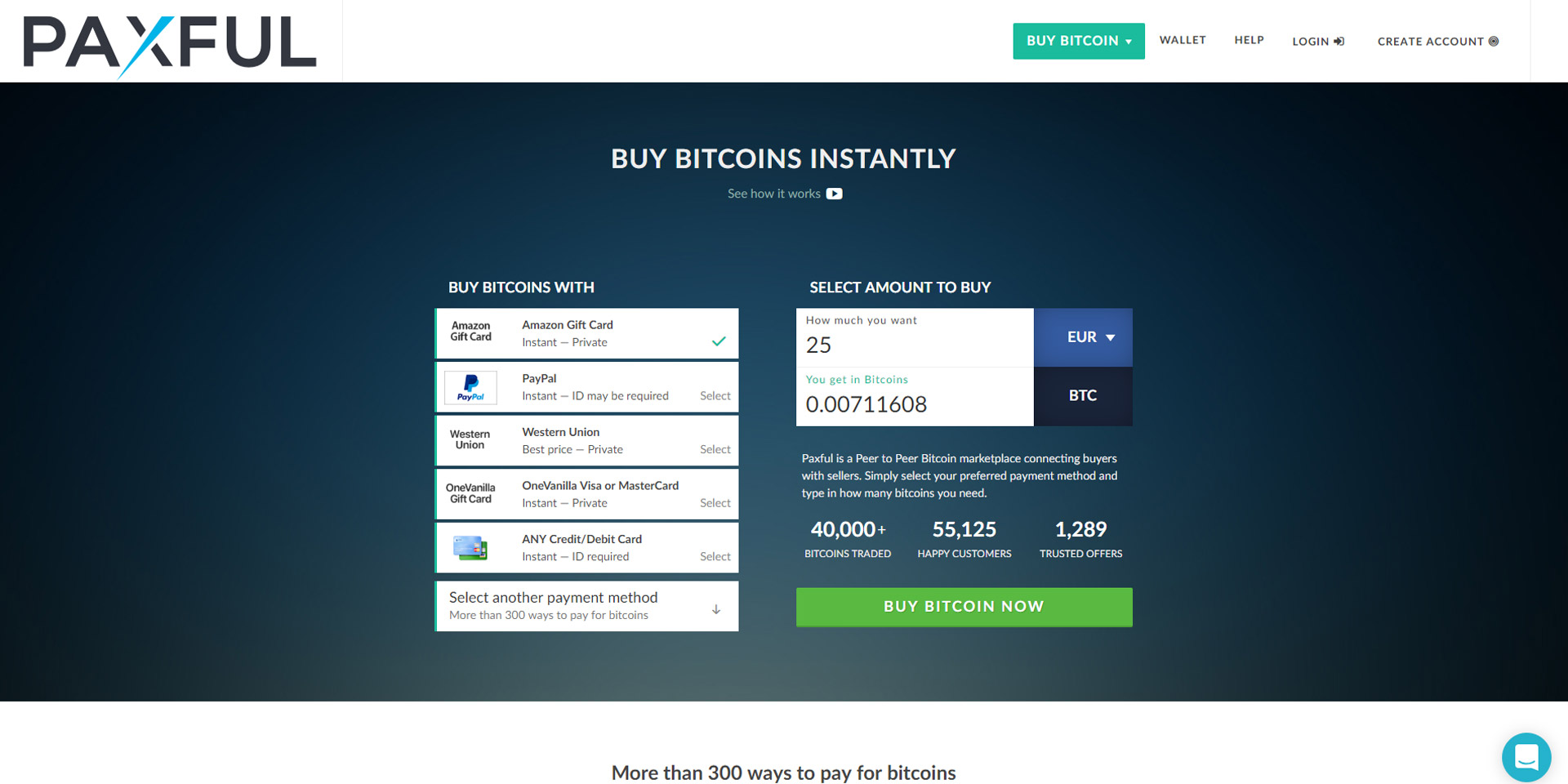 Paxful more than anything wants to keep blockchain decentralised. This is therefore a pure peer-to-peer marketplace that works in a similar way to eBay but with cryptocurrency.
This is a US based company with high ideals about being a mediator of transactions and do not get directly involved. This makes it a user-friendly site and popular with traders at all levels of experience. It accepts many types of payment method that adds to this reputation, including credit and debit card, PayPal, MoneyGram and Skrill. It is even possible to use gift cards from Amazon and iTunes, though these come with additional costs.
Binance
Binance is the leading exchange on the market. It is thought to be the best of the best cryptocurrency exchanges available. The team behind Binance are some of the most experienced in crypto-finance and from Wall Street. They have a proven record of success in start-ups and with entrepreneurs across the world. It is also one of the best cryptocurrency exchanges, as it can process 1.4 million orders per second, which is impressively fast.
They support a massive range of coins – listing prices for 122 cryptocurrencies and with 804 listed in total. You can deposit and withdraw in fiat currency and a flat 0.1% trading fee per transaction. However, the withdrawal fee varies depending of the digital coin transacted.
Exmo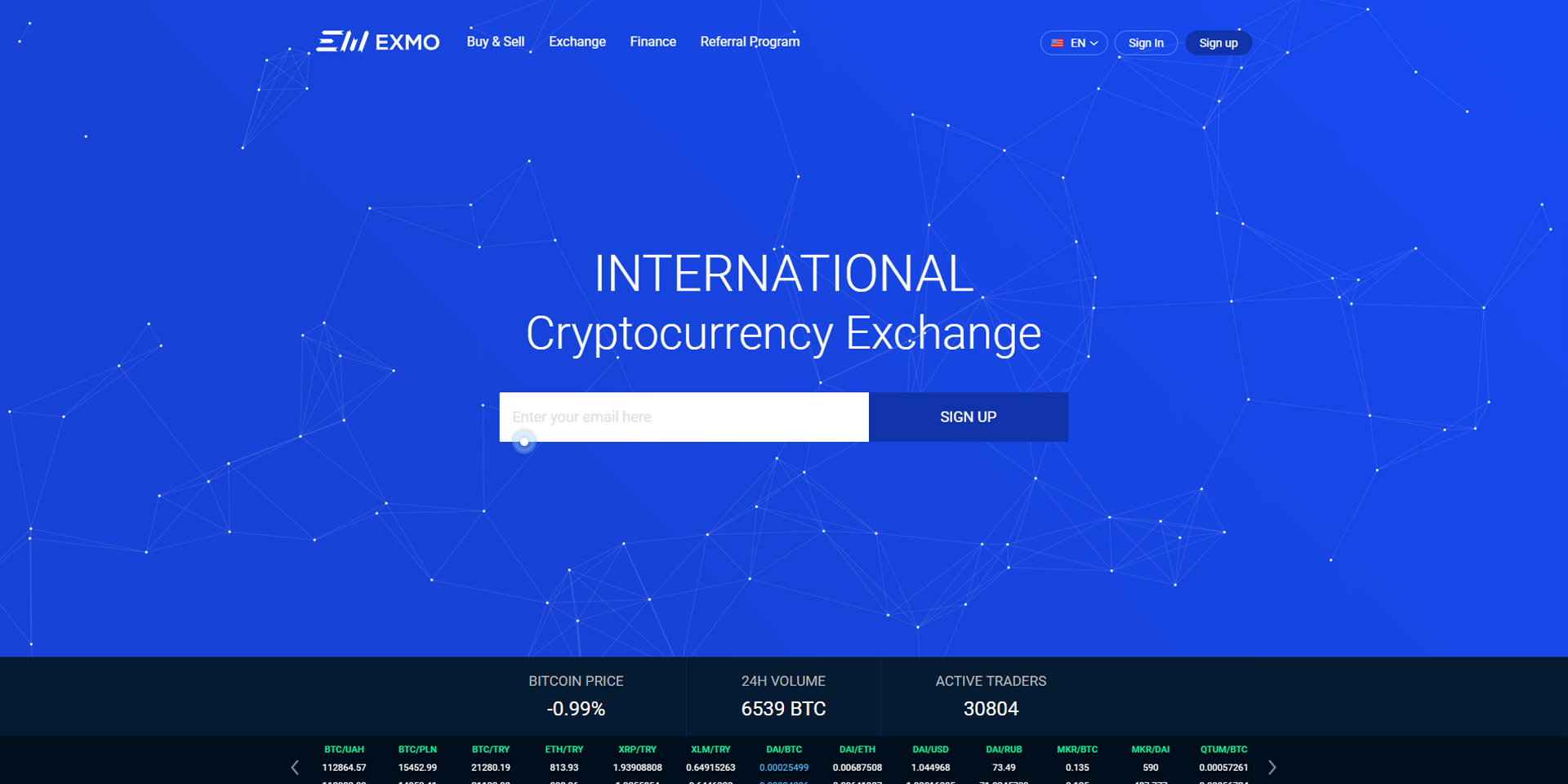 In contrast to Binance, Exmo is a small exchange. Even though its trade volume is small, it still accepts fiat currency, including the dollar and the euro. It exchanges a lot of the altcoins on the market – making it highly competitive in the exchange marketplace.
The interface on the site has been designed for beginners – and comes in 11 different languages. It lacks some of the features of the more sophisticated sites, and the data is relatively limited. However, this is the best cryptocurrency exchange for new traders to the market.
Even though this is a UK-based exchange it is thought to be primarily aimed at a Ukrainian market.
CEX.io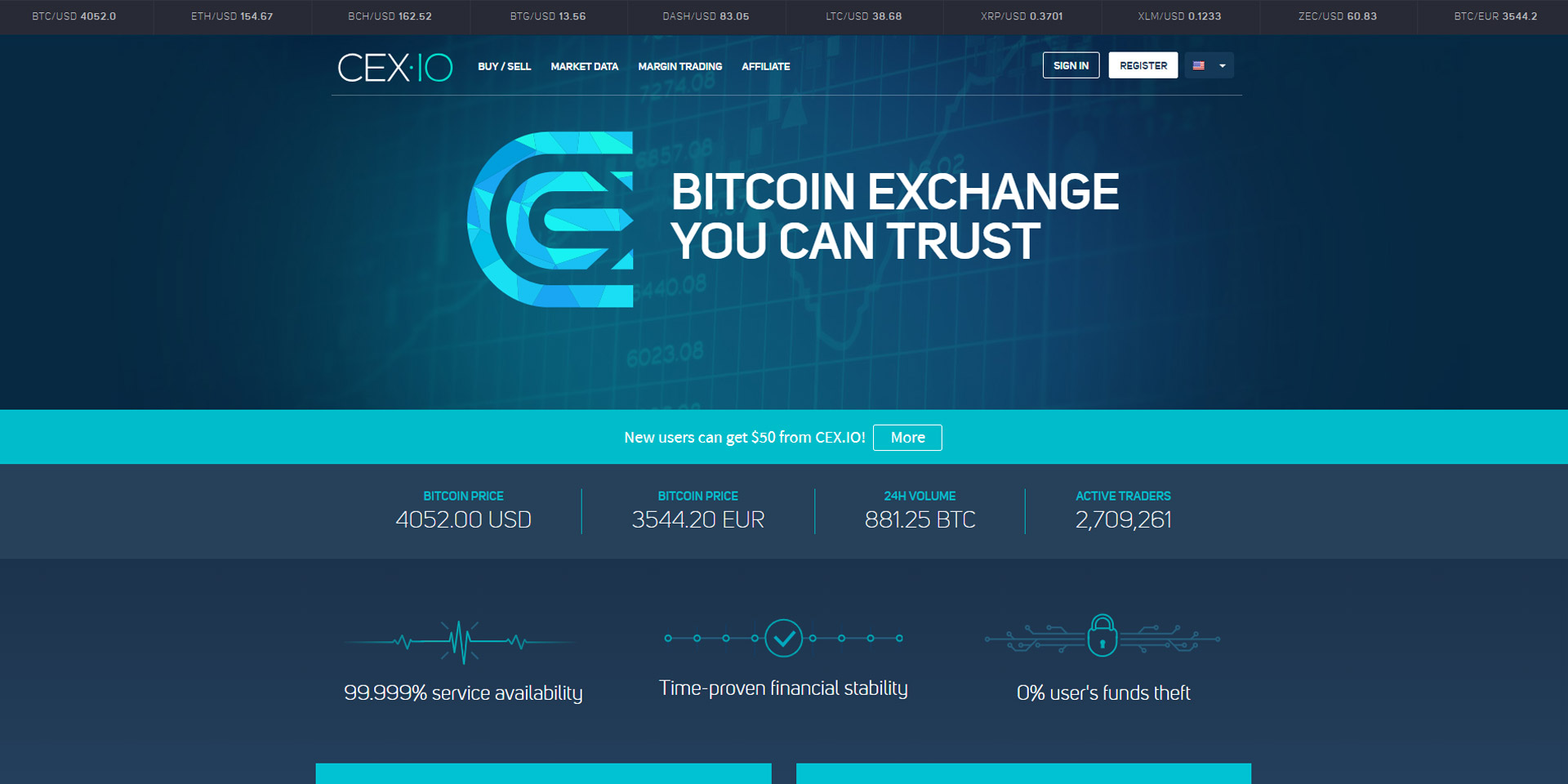 If you want to trade in Bitcoin, then CEX.io is one of the best cryptocurrency exchanges out there. This is not a currency investment website – it connects the user to all the exchanges where the user enters into the buying and selling of cryptocurrencies.
One of the best features of the site is the ability to personalise the user-face. The platform is known for its excellent security and for the impressive mobile platform for Android and IOS.
Although great for beginners, and accepting of credit and debit cards, the verification process can feel tedious and the deposit fee is relatively high.
Coinbase
This is the best-known cryptocurrency exchange. Its reputation is as one of the safest places to hold your digital wallet. It also enjoys credibility as one of the best cryptocurrency exchanges due to the huge investments made by venture capitalists.
This is a global company, with traders in over 200 countries. It offers two core products. First, there is the Global Digital Asset Exchange that allows trade in digital assets. The second product is an API that is sold to developers and merchants who want to accept digital currency as payment on their website.
Changelly
The main aim of Changelly is to help users trade in altcoins by removing potential technical barriers. It links the user to a range of cryptocurrency marketplaces. Better still, the site allows anonymity and security. There is no need for verification on Changelly whilst trading on these other exchanges.
Changelly also offers an API and customisable payment widget. This is available to publishers and merchants – and a means of providing third parties with payment options. The site is partnered with some major organisations, which enhances its reputation as one of the best cryptocurrency sites.
Coinigy
You can trade on 45 exchanges using one account with Coinigy. This makes it easy to trade anywhere and anytime. Coinigy offers a wallet where you can store your bought coins and a library of resources that help you to make the most of your trades.
Coinigy uses Google Datacenters, meaning it enjoys 99.9% uptime. It also provides some of the most comprehensive set of metrics to help with the decision-making process. You can also set up alerts that allow you to react in real-time to changes in the market.
Etoro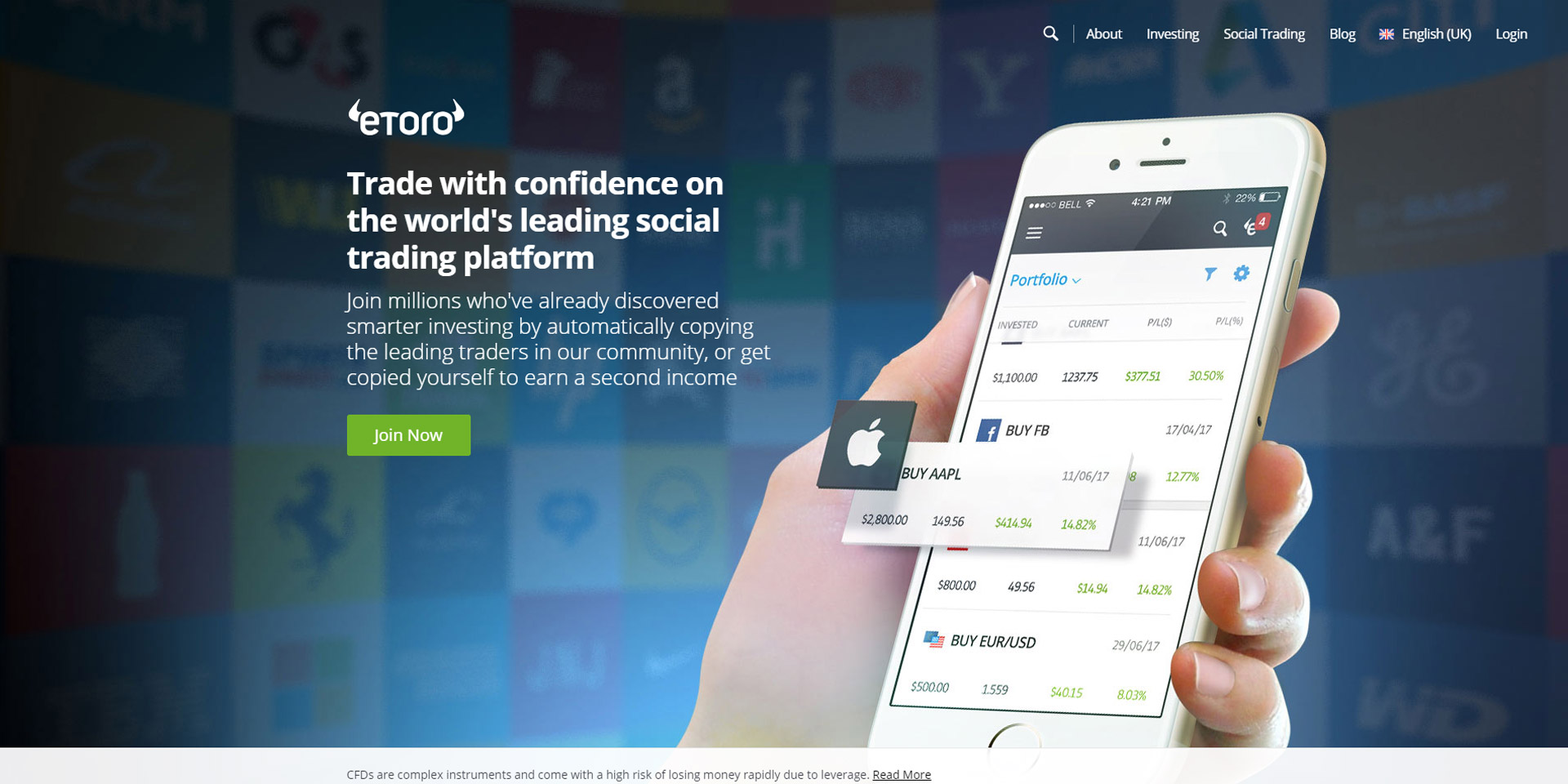 eToro is a social trading platform, making It similar to Facebook. It allows the user to set up a profile and then follow the trades of other users. This CopyTrader facility means that inexperienced traders can learn from the moves of more experienced, verified users. This means that 5 million users work together to map out the best trades on one site.
The feature that makes this one of the best cryptocurrency sites is the tutorial where you can trade with $100k of imaginary money to learn how it all works.
HitBTC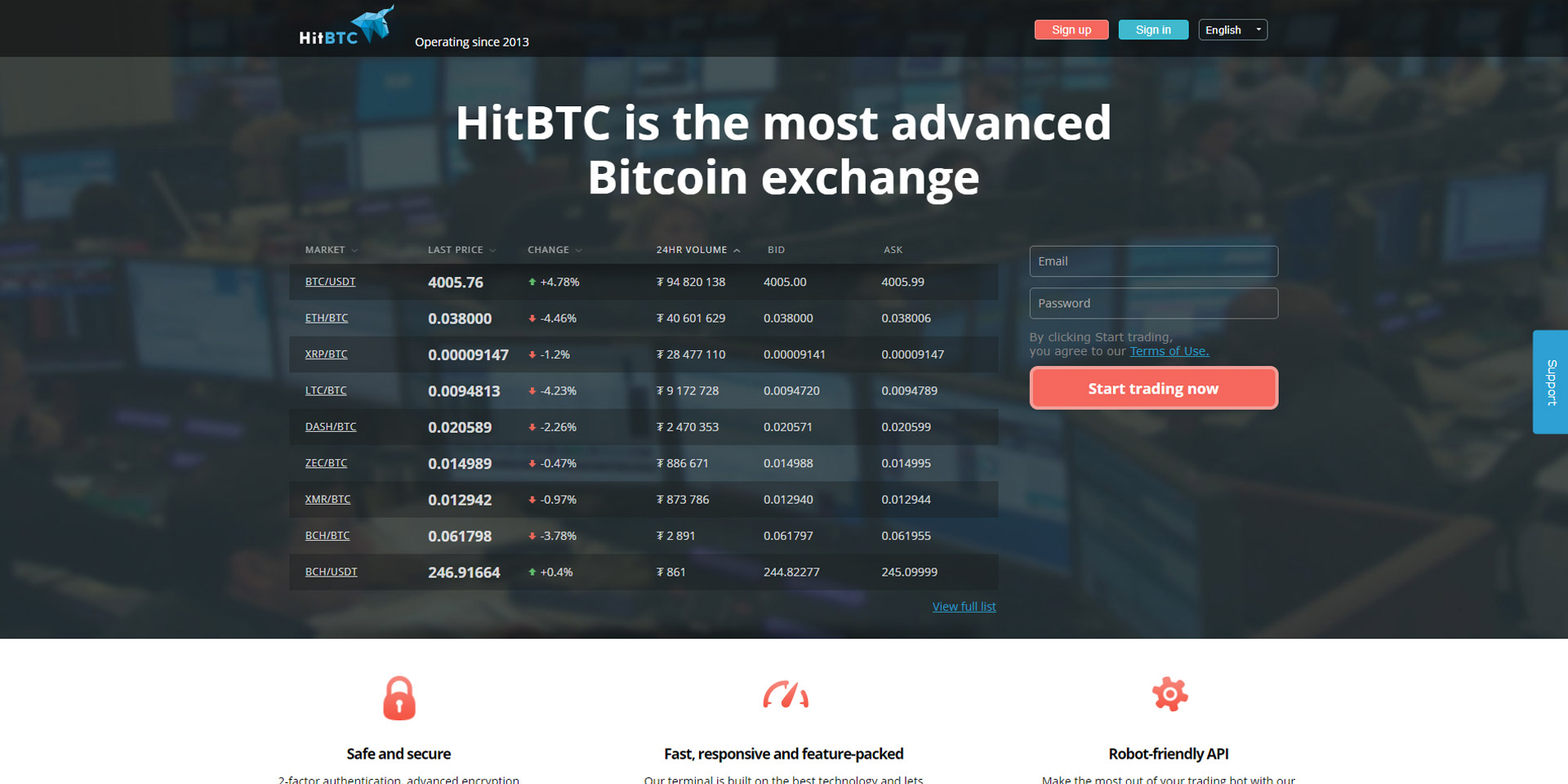 Billed as one of the most advanced cryptocurrency exchanges, you can trade in over 300 digital currencies. The site offers high level security, fast and responsive transactions – and an API that works effectively with trading bots. This makes HitBTC a favourite with professional traders who are looking to automate their trades.
The interface is complex at first but once you learn how it works traders are grateful for the additional depth and detail of information.
LakeBTC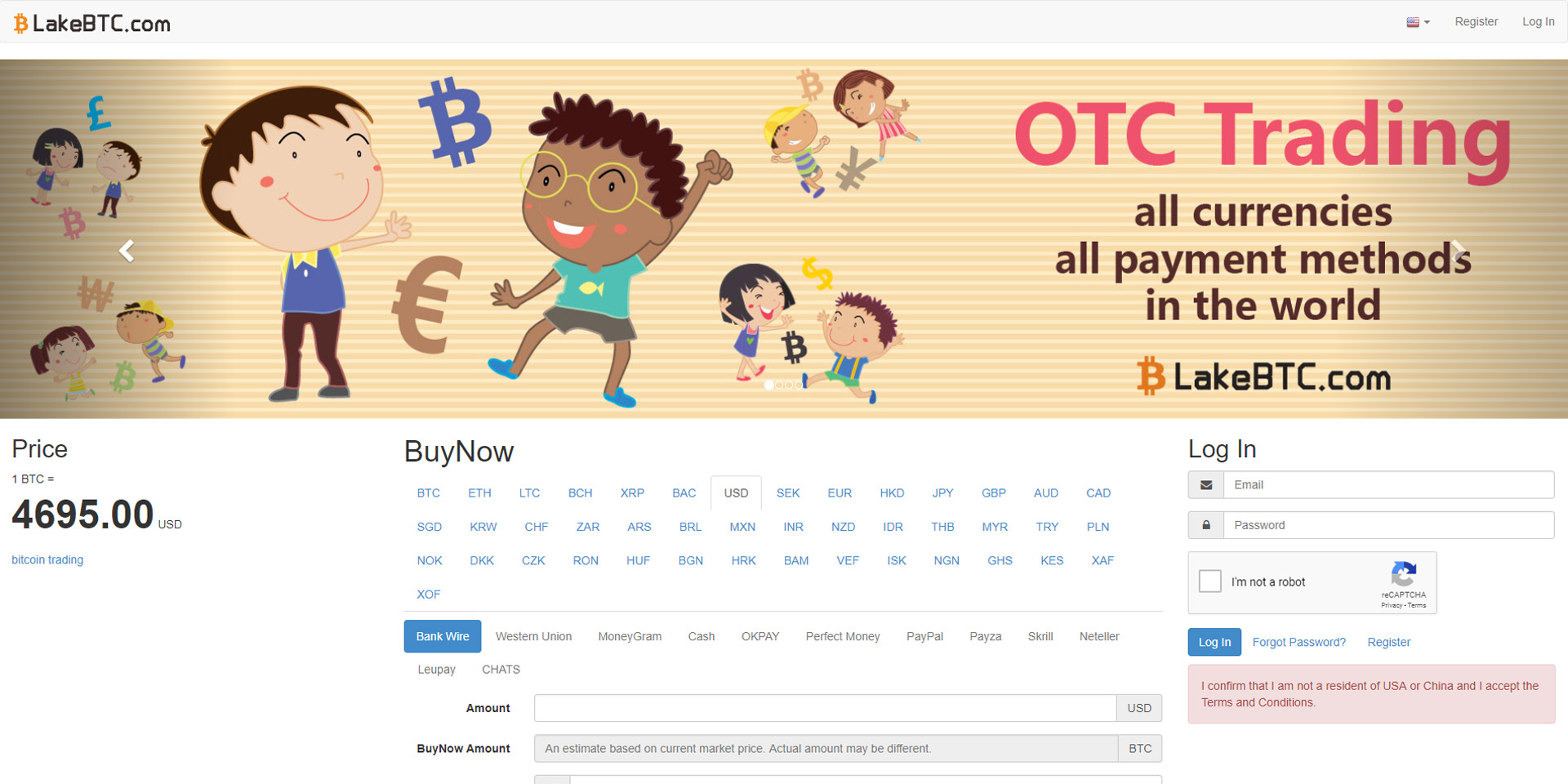 With LakeBTC, traders only need to verify the account if working in fiat currency. Depositing currency is free, which means you can get started quickly. This is not really known primarily as a cryptocurrency exchange but an exchange for fiat currency. Therefore, there is only the option to exchange in Bitcoin.
LakeBTC are known for outstanding customer support, though the fee structure is less than clear.
LocalBitcoins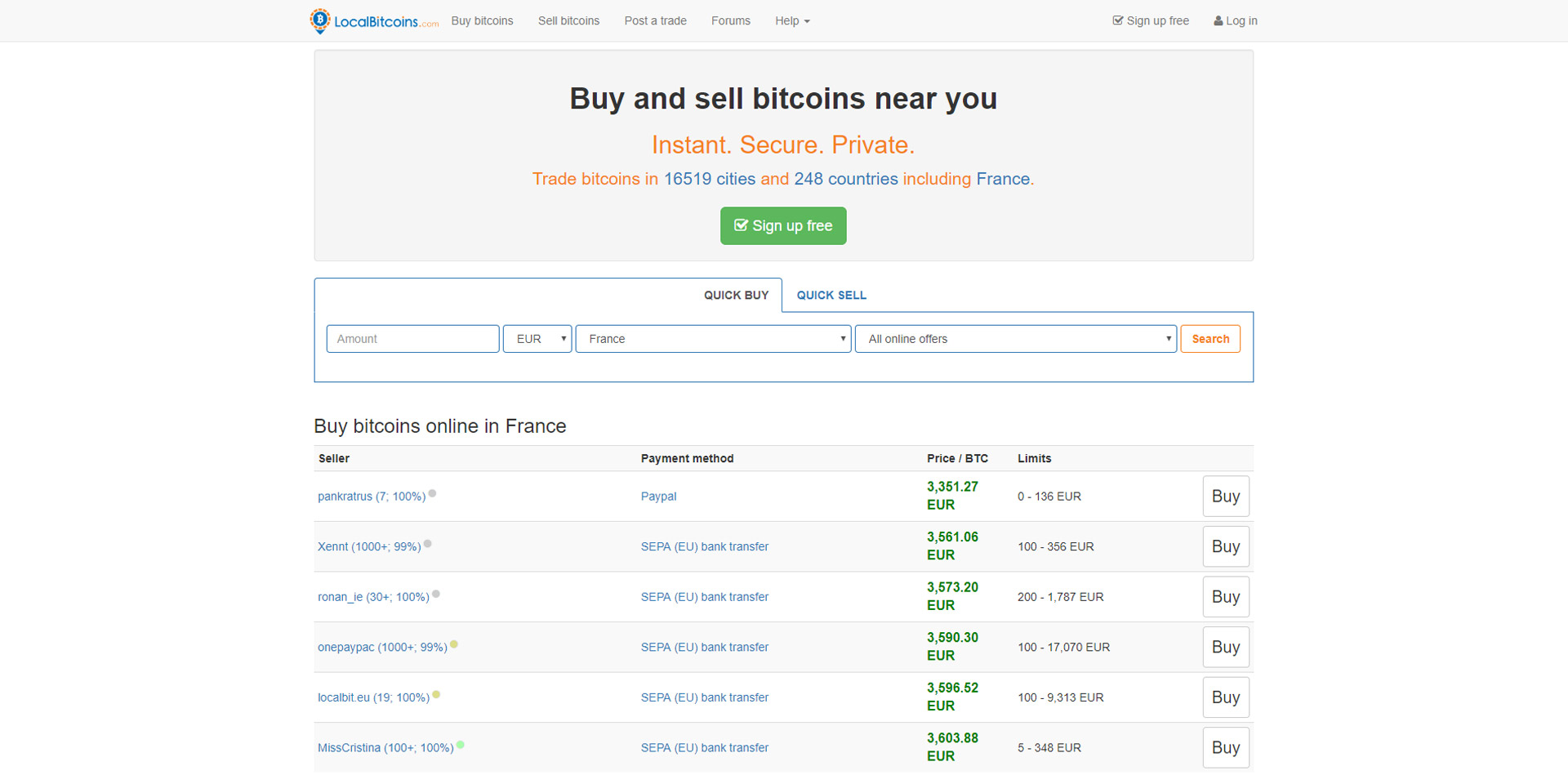 LocalBitcoin is a different sort of site. It offers peer-to-peer trading directly between two individuals. The vision of the site is to set up a mechanism of exchange that is lean and fast – with buyers and sellers of Bitcoin listed by location.
The site is there to act as an advertiser for those wishing to buy and sell. It also offers a wallet, where you can store your purchases once the transaction as taken place. Verified users, escrow services and profiles are used to ensure the reliability of the services offered.